Kreate Konnect: The E-Commerce Enablers
It is true that with the advent of e-commerce, it has become infinitely possible for sellers to offer their products to millions of buyers residing in the far reaches of the world – at the click of a button!
Yet, a significant number of sellers find themselves at sea when it comes to building and mastering the e-commerce platform. Faced with many challenges, right from deliberating what products to sell at what price to developing a seamless and robust technological system for handling inventories and customer management, many sellers are still deprived of the e-commerce advantage.
Identifying this huge gap between the sellers' desire to reach the global market through e-commerce and their lack of strategic and operational preparedness, online selling experts Abhishek Jain and Piyush Jaidev founded Kreate Konnect in June 2015.
A unique end-to-end e-commerce management company, Kreate Konnect helps sellers in offering their products to customers in 50+ countries across six continents.
As an e-commerce enabler, the company takes care of all key operations, from the time an account is opened on a particular marketplace to the time the product gets delivered to the customer.
"We offer the complete range of services that help our clients sell their products conveniently and profitably. Right from product research to process automation to analytics-driven sales and marketing support, we manage the entire e-commerce gamut, letting our clients focus on developing great products," shares Abhishek Jain.
ABHISHEK JAIN
CEO and Co-Founder
A technology plus services company, Kreate Konnect helps its clients in three primary areas; strategy development, process automation and marketing and sales – thus covering the entire e-commerce landscape.
Under strategy development, Kreate Konnect relies on a data-driven approach to help sellers identify the right products to sell at the right price. To achieve this, Kreate Konnect team analyzes large databases of competitors and price-comparison websites.
Optimizing its in-house cloud-based platform and strong technological capabilities, Kreate Konnect automates all the processes such as product listing, inventory management, warehousing, CRM and data analytics for its clients' e-commerce business.
"While we help our clients in devising a winning e-commerce strategy and establishing automated processes, we go the extra mile to ensure that their products register incremental sales. This we achieve through continual and rigorous data analytics, which aids better product positioning in different target groups," explains Piyush.
In less than two years Kreate Konnect has gained significant traction and is presently managing over 10,000 products across 25 domestic and international marketplaces including Amazon, Snapdeal, eBay, Flipkart, Myntra and many more. Kreate Konnect is presently serving 45 clients from varied sectors such as home décor & furnishing, apparel, F&B and electronics among others, and generating a monthly Gross Merchandise Volume (GMV) of approximately INR 2 crores.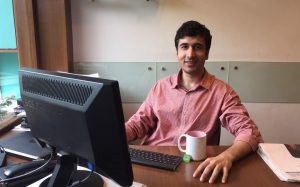 PIYUSH JAIDEV
COO and Co-Founder
"In the past couple of years we have been able to attain a stellar growth owing to our years of experience in the online selling space and expertise in technology, data analytics, branding and sales," reveals Piyush.
With a team of 30 members dispersed across three offices in India – New Delhi, Vadodara and Bengaluru, Kreate Konnect is now poised to further expand its operations.
"We aim to grow our customer base from the present 45 to at least 100 by the end of this year. Also, by the end of 2017, we have plans to open offices in three more cities, which will mark our presence in six locations across India," says Abhishek.
"Besides new customer acquisition and market expansion, our key focus would be to roll out certain features of our technology platform on a subscription to other online sellers, thereby adding a new revenue stream for the company," adds Piyush.
On a longer time horizon, Kreate Konnect aspires to become one of the most influential brands in the Indian e-commerce space by becoming a one-stop platform for all e-commerce related needs of sellers. Kreate Konnect aims to become the most trusted and effective point of contact between sellers and various national and international marketplaces.
The company has recently raised a seed funding of USD 150,000 from the Bengaluru-based digital first marketing agency, Langoor. The founders reveal that they will use the seed funding in strengthening their internal resources and technology platform, as well as, in propelling their expansion plans.
In early 2018, the founders will start looking for their Series A funding.
With thorough command over technology and unmatched industry insights – coupled with the fact that more and more sellers are aspiring to sell online, especially a rising number of niche retailers, Kreate Konnect's growth prospects not only look bright, but dazzling.