Square Yards: The Customer-First Real-Estate Advisory Platform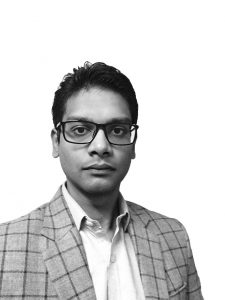 Sopan Gupta
Co-Founder & Principal Partner
An alumnus of Delhi University, Sopan Gupta is co-founder & principal partner, Square Yards. He began his career into manufacturing and lateron experimented in fields of online furniture and jewellery. In 2013, he co-founded Square Yards and has been instrumental in setting up Square Yards offices abroad. An avid traveler and cricket buff, he shares the remarkable journey of Square Yards' expansion across ten countries in just three years.
Please elaborate on the scale of Square Yards' India and international operations
At present, we have around 1400 employees spread across 32 cities in 10 countries. We have offices in all major metropolitan cities in India and a few upcountry locations. Our international presence is unmatched with roughly 15% of our workforce working in global locations such as UAE, UK, Singapore, Hong-Kong, Malaysia, Canada, Australia, Oman & Qatar.
Could you walk us through the international journey of Square Yards?
Since the inception of Square Yards, I was involved in firming up Square Yards presence abroad. My prior experience in International operations had already given me a boost to take the brand to global markets. With NRI clientele being a strong backer of Square Yards, my work was clearly cut out. "We had to take Square Yards to the doorsteps of millions of Indians settled abroad," was the mission in my mind and I chalked out various strategies to achieve this.
The international expansion started in Hong Kong and Dubai with more offices in the GCC region in 2015. In the middle of the same year, the company entered the crucial Singapore market. Oman and Sydney were next on the list. In 2016, Square Yards opened offices in Canada and another in Australia. Melbourne was chosen as the next destination in Australia owing to very strong local demand and the huge response the company garnered at the Sydney office.
How is the approach followed by Square Yards different from its peers?
We follow an online to offline (O2O) approach for customer acquisition and service delivery. Our web portal offers deep research, data-driven insights and unmatched decision tools that help investors zero in on a location or project. Through online channels, we generate more than 75,000 leads per month.
We assign these leads to a sales person closest to the customer's location. The sales person sets up a meeting with the customer, assists in property research, coordinates site visits, helps in evaluating options and inventory selection, finally closing the deal with the developer. Our in-house mortgage team then steps in to provide loan advisory and documentation facilitation.
We also have a mandate of assigning a dedicated representative to each customer for assisting initial payment process, builder-buyer documentation, concierge services eventually hand-holding the customer till property possession. For facilitating transactions, we bring the entire project inventory online through our proprietary e-commerce platform where customers can choose and block the desired unit by paying the booking amount online.
Post sales services are supported through a dedicated client portal for quick resolution of their service requests. This brings unprecedented transparency in the entire ecosystem while delivering best-in-class user experience.
How difficult or easy was it for an Indian startup to achieve global expansion?
It was by no means an easy task. Square Yards was a bootstrapped startup with limited resources with a lot of ground to cover. I personally traveled to different countries to open offices and confirm with the compliance as per local norms. Each country follows a different and unique set of regulations and systems.
I ensured that the offices be set in the most accessible business districts for clients to walk in. I also had to make sure that local laws and real estate related rules are followed to the spirit.
You mentioned that NRIs form a major clientele for Square Yards. Can you chalk out a percentage of how much does it impact your overall revenue?
If we talk about Indian Real Estate, NRIs contribute over 40% of our overall revenues. Square Yards is amongst the biggest real estate consultants, catering to the NRI segment.
But is the focus of your international operations only the NRIs?
While NRIs are our target markets and form a chunk of our repeat customers, we are not specific about it. As we sell properties from other countries too, wherever we have offices abroad, locals have expressed faith in our services. In fact, international real estate contributes to over 10% of overall business.
What role does technology play in running a multi-country operation as significant as real estate?
Technology has no doubt, played a crucial role in our success. It is a mainstay of our operations. We adopt a very standardized approach and technological tools. Recently, we established a global property portal, the first by any Indian start up in real estate space to offer a singular platform for the best global real estate deals.
At Square Yards, all processes like recruitment, finance, employee resources, sales, and helpdesk are fully automated. This enables a seamless and clear flow of data and ensures greater efficiency in operations.
How do you engage with property developers and do you have any criteria for choosing developers you work with?
Square Yards works with over 500 developers across the Globe. We like to work with developers who match our work ethics and bring value propositions to our clients. We have cross-border licenses and sell across geographies depending on consumer demand.
What are your expansion plans for the near future, especially regarding international operations?
International real estate business contributes to a major portion of our revenues. It is quite significant from the point of view of our overall business strategy. We are at present working on an international agency network model. This will be an agency network based on a revenue sharing model. We also have plans to grow geographically to more international locations, the United States and South Africa being our immediate options.