Rudri – Bringing 'Ethnic' to the forefront
RUDRI: India Ka Brand is India's First brand For Curated Women's Traditional Wear. It is one of India's first retail chains dedicated to affordable ethnic wear for Indians. Most of us look forward to special occasions when we can dress up in our favourite traditional attire, but it is often difficult to find those ornate saris and kurtis without a hefty price tag. Further, there is no single retail chain or brand that exclusively offers traditional wear in all styles and sizes across the country.
However, the advent of Rudri into the Indian marketplace will change this scenario completely. Catering to the middle section Indian shopper, Rudri is all set to become India's to-go brand for affordable and stylish traditional wear. Venturing into a highly unorganized market sector, the team at Rudri is confident of rapid growth. Their confidence stems from 12 years of experience in a family run sari business – Vibhutee – that has armed the founders with an understanding of customers' behaviour and choices.
"Currently, there is no single brand dealing in traditional wear that has a pan-India presence. At Rudri, we are focused on creating a national brand our customers would identify with," says Mayur Bhanushali, Founder, Rudri.in. "We curate our collection from the best designers across the country and sell it under one single brand to elevate the shopping experience of our customers by providing them everything they need under the quality stamp of their favourite traditional brand – Rudri," he adds.
The collection currently comprises 150 curated pieces for the contemporary Indian women in the age group of 18-45. Each piece in the collection has been handpicked after a stringent quality, comfort and style check. "We are India's one-stop shop for saris, dresses and Kurtis. The modern yet traditional collection is reasonably priced and each piece in the collection is exclusive," adds Mayur Bhanushali, Founder, Rudri.in.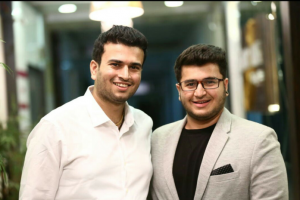 Talking about the business model, Rudri has kept a low-profit margin on its products and is focussed on creating a sustainable brand by building a loyal customer base instead of driving massive sales through discounts. Their e-commerce website, Rudri.in, recently went live and received an overwhelming response, encouraging the founders to scale up.
However, this is just the starting of a long journey. Having launched an online store first to catch customer attention, the company is now looking for investors and mentors who would help them grow. An exclusive brick-and-mortar store is also on the cards in the future that will further boost the brand's presence across India.