LINQ: Handholding People for Digital Transformations
LINQ: Bringing the E-Commerce Spectre to Offline Buyers
'Why do you shop online?'
The question may sound bizarre to people dwelling in metros and urban areas. Of course, you get awesome products from around the world at best prices, right at your doorstep! Now, who wouldn't know this?
The digital disconnect
The truth is that over 85% of Indians living in semi-urban and rural areas know little about e-commerce, let alone its advantages. And even if a few of them do know about the boons of e-commerce, they neither have the means nor the exposure to shop online.
It won't be an exaggeration if we say that for more than three-quarters of all Indians, buying physical products from virtual shops is nothing short of magic.
Young entrepreneurs Sreeram Juluru and Anirudh Rayaprolu, both alumnus of BITS Pilani, saw the gap in the market and thought of addressing it.
Together, they founded LINQ, a truly disruptive startup that is focusing on enabling people from semi-urban and rural areas to access incredible online deals without spending a single penny!
"India has a huge divide, not only in terms of distribution of wealth but also access to technology," shares Sreeram, founder, LINQ, "We have millions of people who don't have any access to digital technology or a clue how to use it," he adds.
The founding duo conceptualized the idea of LINQ after they experienced this divide in their personal lives.
"Our parents, neighbours and several relatives had no idea how to shop online. They always looked at online shopping with a lot of skepticism. But with a little support, encouragement and handholding, they became pros," Anirudh, co-founder, LINQ, fondly recalls.
In 2016, LINQ was launched with a pilot store in Tiruvuru in Krishna district, Andhra Pradesh. Presently, it has 450+ stores across India.
What exactly is a LINQ store?
A LINQ store is a shop where buyers can walk in, and with the help of a dedicated LINQ resource, could browse, select and order products online. A simple idea with great power!
Imagine a buyer with no experience in online shopping walking into a LINQ store. A LINQ representative would browse scores of products under the category the buyer desires and hits the 'Buy' button only when the buyer confirms the product.
"We offer an eclectic range of over 16 crore products under numerous categories available on Amazon. We make sure that we show our clients the best deals available on our partner websites," quips Sreeram.
LINQ is an official franchise partner of Amazon in India and also has partnerships with netmeds and via.com
LINQ gives the customers an option to open and check the contents of the package in the presence of the store owner. In case there is any discrepancy in the delivered product, the buyer can leave it at the store and the LINQ team gets it replaced.
Traction so far
In the past five months, LINQ has grown its store base from 100 to over 450 and counting. LINQ stores are becoming instant hits. Up for grabs within a total investment of just INR 1, 20, 000, many local entrepreneurs are considering LINQ franchisees as a lucrative investment option.
The ambitious startup is eying to add over 200 stores across ten states by June 2018.
A holistic service
LINQ has come far from being a simple digital shopping desk to include comprehensive online shopping assistance services such as offering EMIs to buyers.
"If we want to keep increasing the online shopping spent of people from rural and semi-urban areas, we must be ready to enhance their purchasing power," says Sreeram.
At LINQ stores, buying a product online at EMIs doesn't require a credit card. Customers can buy products on EMIs by simply furnishing their Aadhaar and PAN card details along with a recent bank statement.
"The best part is that all our services are free of charge to the customer!" says Anirudh with a big smile. Now, that's some real empowerment to fellow citizens.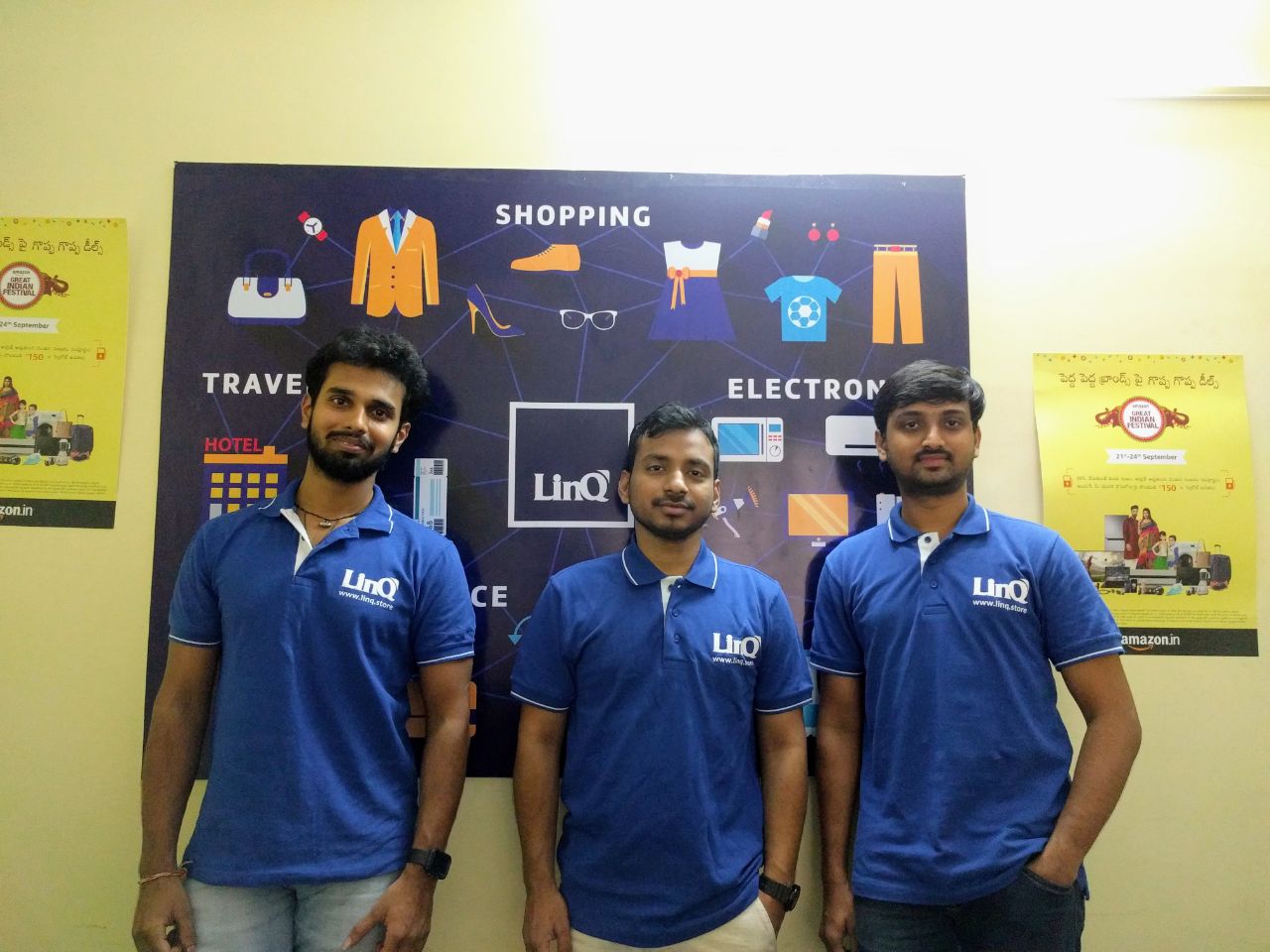 The road ahead
Bootstrapped since its inception, LINQ is efficiently managing its funds, most of which come from franchise fee and royalty from existing stores. However, the founders are willing to collaborate with investors who could drive a greater value for the business model and help them build a more sophisticated tech product as well as help them expand rapidly by building a large team. As of now, the LINQ team is 15 people strong.
Treading on dusty by-lanes of un-urban India, LINQ is one of the few startups that is making a real difference to people's lives and is realizing the dream of 'Digital India'.