Cityrene – Towards a Sustainable Future
Working towards a sustainable future, finally, we have a startup in the construction industry – Cityrene – that is dedicated towards building SMART eco-friendly energy efficient houses that will pave the way for sustainable living and help save the earth for posterity.
Cityrene builds smart sustainable homes using Australian technology GFRG (Glass Fiber Reinforced Gypsum).
"Our houses are powered by solar energy, generate drinking water out of thin air and recycle the grey-water and bio-degradable waste efficiently. Not just sustainable, our homes are SMART. You can monitor your daily power, water and data usage through a mobile application with Cityrene homes," explains Dilipan Bose, CEO.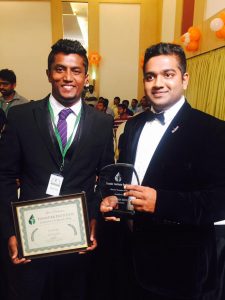 Dilipan Bose, CEO
Started by a team of young entrepreneurs, the idea for transformation stuck their minds in the aftermath of the Chennai floods, when thousands were stranded without power and water.
Incubated and mentored at Founder's Institute, Chennai. Cityrene was awarded the Best Startup of India – "Founder X Award" by Founder Institute – a well-known local and global startup incubator, and has been recognized by Startup India – Department of Industrial Policy & Promotion. Cityrene was also recognized as the emerging startup by Be a Change – Rise India Award. They are also the authorized distributors of GFRG panels by FRBL
Core offerings:
Cityrene offers GFRG construction as a consultant, building homes in less than 90 days. GFRG constructions utilize superior technology as compared to the current technology in use. Cityrene homes are:
5X stronger and has greater life
Water resistant
Fire resistant upto 1000°C
Cooler upto 4o°C
Earthquake resistant
Built under 90 days.
Cityrene has already completed its first project of five apartments in Kovalam, Chennai. They are planning to extend their construction services to other states like Andhra Pradesh, Karnataka and Kerala by establishing relationships with the local construction teams
Plans are also in the pipeline to introduce sustainable homes that recycle the grey water and biodegradable waste as well as smart homes with IoT enabled appliances
"We have got smart phones, smart computers and even smart televisions, but what about smart homes? The technology we use for construction is 50 years old. Change in the construction industry is imminent and we believe Cityrene is going to pave the way for that," says Dilipan Bose, CEO.
Cityrene, as a company, is not bothered by competition. In fact, it wishes for more construction companies to uptake sustainable construction models in order to reduce the carbon footprint of the construction industry as a whole and contribute towards a greener future. They are glad to lead the change in the industry and encourage other builders to emulate their strategy.
The founders feel immensely grateful to their mentors at Founders Institute. The company received INR 2 lakhs for app development from Maxblox. Mr. Gopi Mattel, CEO of Maxblox and a mentor at Founder Institute has been the backbone of Cityrene. The company has already started generating revenue and would soon break even. Currently, they are raising funds for their township project that will be a smart self-sustainable resilient community.